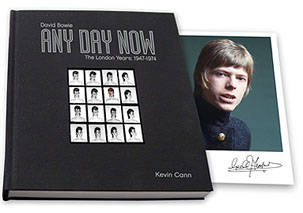 Hardback edition: £175.00
ISBN: 978-0-9552017-8-3

BOOK INFO
Text trim size: 280 x 230mm
Extent: 336pp
Text: 140,000 words
Images 850+
PAPERBACK EDITION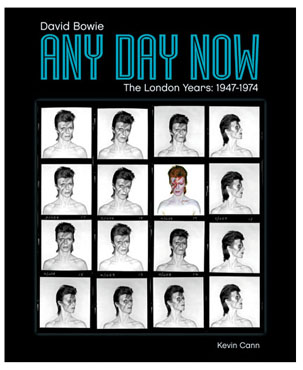 The paperback edition features full pull-out flaps on
the front and back covers. The front reveals a rare shot
of Bowie and Ronson performing. The back has a
timeline of Bowie's early groups.
Paperback edition: £24.99
ISBN: 978-0-9552017-7-6
ANY DAY NOW is the definitive story of the early life and career of an icon: David Bowie.
Packed with hundreds of interviews and beautifully reproduced images, ANY DAY NOW is a lavish 336pp chronology giving an in-depth year-by-year account of David's life from his birth in south London in 1947 to his departure from the city in 1974, including a wealth of new information and images.
Kenneth Pitt, David's manager (1967-1970), has contributed a foreword.
Rare images include:
Bowie at 13 outside the US Embassy with schoolfriend George Underwood, being presented with an American football helmet and shoulder-pads.
Talking with friend in Denmark Street (Tin Pan Alley) the day after appearing on BBC TVís Gadzooks! Itís All Happening in 1965.
Unpublished photos with The Lower Third in 1965.
Rare Lower Third and Buzz adverts, 65/66.
David with one of his famous ambulance's in 1966 (the first photo of David and vehicle to be published).
David with Ken Pitt in 1967, published for the first time.
Colour photos of David posing with life-size models of The Beatles from Yellow Submarine, 1968.
Unpublished photos of David at the Glastonbury Festival, 1971.
Signing to RCA Records in New York, September 1971.
Rare outtakes by Gerald Fearnley
With Lou Reed backstage at the Rainbow Theatre, August 1972.
Previously unknown source imagery for early album cover designs The Man Who Sold The World, Hunky Dory, Aladdin Sane and Diamond Dogs.
Rare promotional items, press releases and sales material 64-73.
With artist Guy Peellaert, renowned artist of Rock Dreams and Diamond Dogs fame.
Rare ticket reproductions including a Hype appearance in 1970. Unseen contracts and letters.